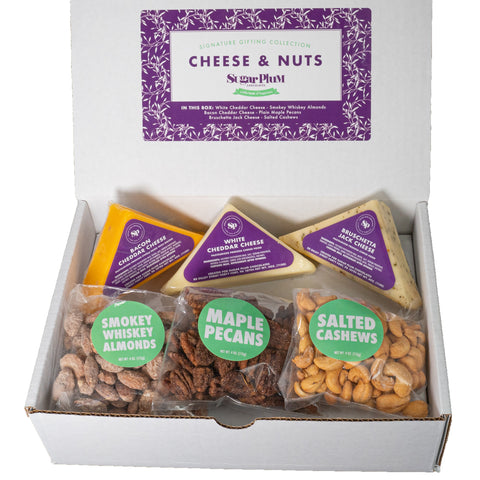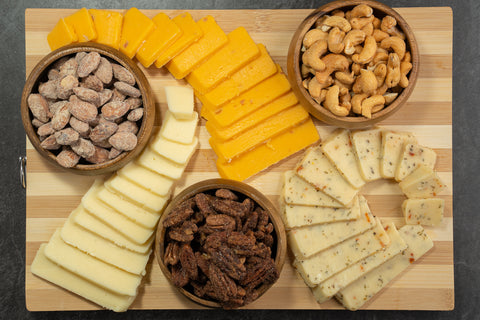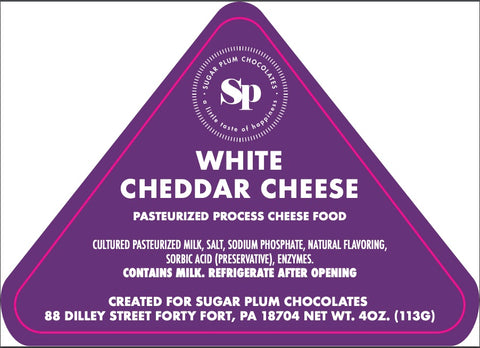 Signature Nuts and Cheese Box
Here at Sugar Plum, we have always tried to do our best to craft treats that help to evoke the soaring, immersive, and borderline-transcendent experiences that expertly-prepared gourmet food can provide, all while making it fun, surprising, exciting, approachable, and delectable. 
While we have been hand-crafting our kettle-cooked nuts for many years and pairing them with chocolates and wines for just as long, there exists a very popular pairing partner for our noshable nuts that we've yet to explore until now - exquisitely crafted cheese.
To accomplish this, we've taken three of our hand-crafted and kettle-cooked nuts and paired with a sampling of some of the most tasty cheeses we've ever come across after an exhausting search to great our Signature Nut and Cheese Box, which includes:
Smokey Whiskey Flavored Almonds

Maple Pecans

Salted Cashews

Sharp White Cheddar

Cheddar Bacon

Bruschetta Monterey Jack
Each of these items have been specifically chosen for inclusion this collection with a carefully-chosen pairing crafted held in the minds of our best and brightest artisanal culinarians here at Sugar Plum, with pairings that include:
Smokey Whiskey Almonds x White Cheddar: This classic take on a sharp white Cheddar has been aged to perfection to create that crumbly tanginess that has come to be known as its signature calling card the whole world over.  Here it is paired with our Smokey Whiskey Almonds to allow for the well-smoked and caramel-forward flavor of the roasted almonds to mingle and play off of the tangy crumble of the sharp Cheddar to create a symphony of flavors that is far greater together than the sum of its parts!
Bacon Cheddar x Maple Pecans:  Here we pair a younger and slightly softer and less crumbly Cheddar with our airy and crunchy kettle-cooked maple pecans to craft a wonderfully complementary texture and mouthfeel, while the maple-based sweetness of these pecans plays a foil to both the natural saltiness present in a fine Cheddar right along with the chopped bits of real bacon spread throughout the cheese.
Bruschetta Monterey Jack x Salted Cashews:  Expert tastemakers have always regarded softer cheeses as a natural pairing for the creamy texture that properly roasted cashews can provide, and the simple light salting of these cashews provide a wonderful catalyst to enhance the exquisite combination of tomato, garlic, basil, and a unique seasoning blend present into this gourmet Bruschetta Monterey Jack.
Each and every one of our Damn Man Nuts and Cheese Boxes comes with 4 ounces of each nut and cheese variety to satisfy your snacking needs!
*Please note that this item is not Kosher certified.*
Checking local availability