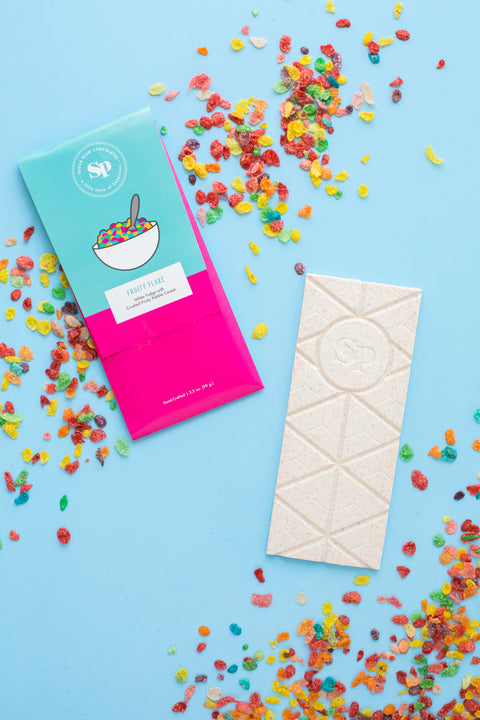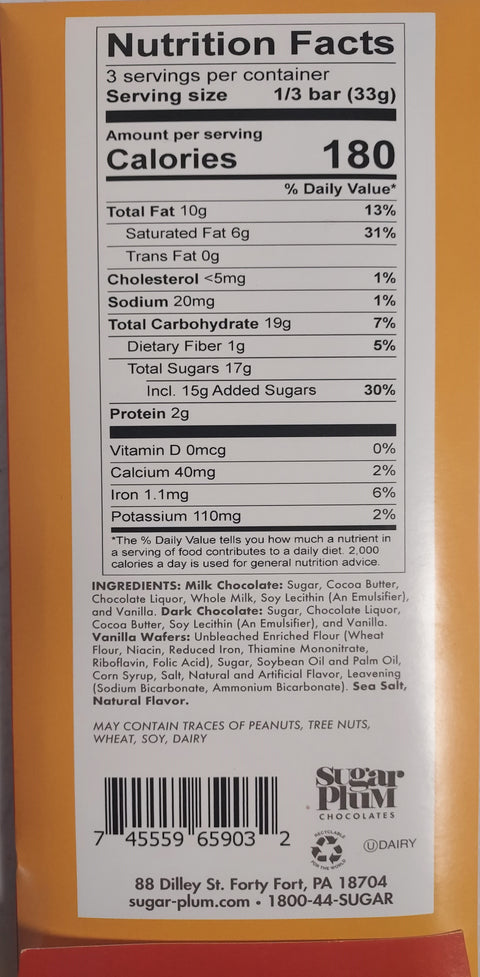 Nostalgic Chocolate Bars - Choose Your Flavor - 10 Pack
Choose your flavor of Nostalgic Chocolate Bars by Sugar Plum. Bring back fond childhood memories with our unique flavors. We have six types of handmade candy in our collection. Each Nostalgic Chocolate Bar is 3.5 oz. and one case has 10 units in it.
Choose from any of these flavors:
Apple Pie has creamy and smooth milk chocolate with spicy fall or autumn flavors. We add cinnamon, and dried fruit chunks, then kiss the bar with a dash of sea salt. Sugar Plum reimagines a fresh-baked Apple Pie. Get the taste of this savory dessert with our handmade creations. 
Pancakes & Syrup Nostalgic Chocolate Bars are for the ultimate breakfast lover! We hand-craft a mix like we would whip up a batter. The maple-inspired candy has smooth milk and hardy dark chocolate. Sugar Plum also adds vanilla wafers and finishes the bar off with a syrup flavor.
Peanut Butter and Jelly is a classic fave, made with our creamy Milk Chocolate. The bar takes you back to being a kid with a PB&J sandwich. Sugar Plum handcrafts a new spin on a timeless go-to. We make Peanut Butter and Jelly more fun and tasty!
Fruity Flake Bars will have ya sayin', "Yabba Dabba Doo!" We use white fudge chocolate that tastes decadent. Remember Saturday morning cartoons when you eat this delicious candy. The Nostalgic Chocolate Bar has dashes of fruity pebbles in it.
Milk and Cookies 

throwback to a time when you enjoyed a comforting snack. Sugar Plum crafts this unique decadent and smooth candy bar. We mix milk chocolate, cookie pieces, and chips. Blended all together, the ingredients leave you satisfied.



Cinnamon Roll Bars blend silky

smooth white chocolate with sweet cinnamon flavors. Imagine an ooey-gooey sticky bun in the form of candy. Sugar Plum captures the essence of the hot glaze. Sink your teeth into our Cinnamon Roll Nostalgic Chocolate Bar. Our candy makes less of a mess than a warm sticky bun!

 
Checking local availability