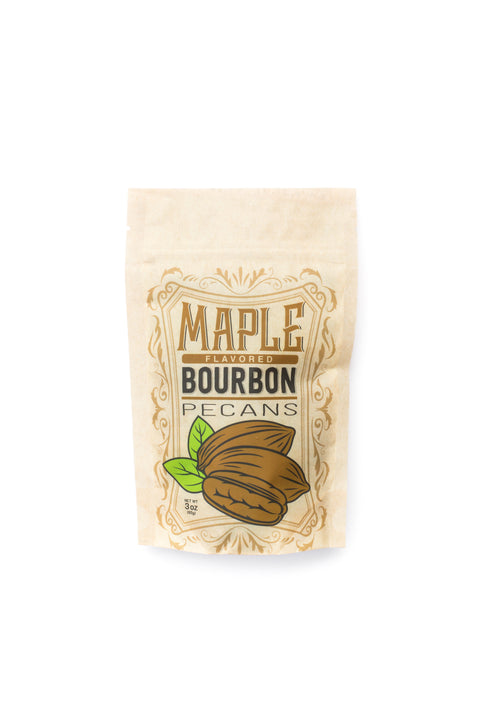 Kettle-Cooked Maple Bourbon Pecans - 5 Bags
Are you looking for a gourmet and flavorful vegan-friendly snack? Try Our Kettle-Cooked Maple Bourbon Pecans! Sugar Plum offers five 3 oz. bags in each pack to savor. 
Eat our Maple Bourbon Pecans during the fall or munch on them throughout the year. You can also use the flavorful gourmet nuts when cooking or baking. Our handcrafted recipe has an infusion of pure Kentucky Bourbon.
The bold taste tempts and tantalizes the tongue as if warms you up. Our Maple Bourbon Pecans are perfect for autumn or fall snacking. The sweet and robust flavors provide a source of comfort food.
We use a kettle-cooking process that has other benefits for snacking! Our Maple Bourbon Pecans are dairy-free. The guilt-free gourmet nuts also do not have unhealthy fats and oils.
Try Sugar Plum Bourbon Pecans Maple Flavored Nuts! Get 5 Bags for your snacking and gifting pleasure! Each bag reseals and is 3 oz. in size for maximum freshness.
Ingredients: Pecans, Brown Sugar, Sugar, Cinnamon, Natural Flavor, Bourbon Liquor
OU Pareve Kosher
Checking local availability