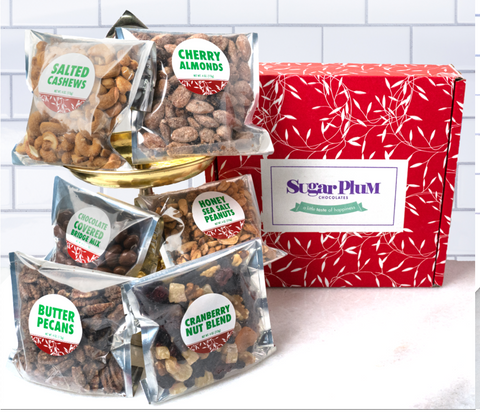 Holiday Gourmet Nut Gift Box
Our roasting artisans put their noses to the grindstone and created our Holiday Nut Gift Box. The assortment includes six gourmet snacks, all completely different, but equally delicious. Get ready to delight the taste buds of all your favorite friends and family!
Each and every one of our Holiday Nut Gift Boxes comes with six 4 oz. resealable bags.
The Christmas Collection includes:

Chocolate-Covered Bridge Mix

- a sweet and savory of blend nuts, fruits, and cremes all fully enrobed in smooth and delectable milk chocolate for a fun & different taste with every handful!




Butter Pecans

- an updated take on the whole "chestnuts roasting on an open fire" holiday "classic" that has remained popular only in songs, these butter pecans are an excellent substitute for chestnuts and are kettle-cooked in small batches for a delectable sweet and savory taste that is as delicious as it is simple.




Salted Cashews

- a classic addition to any nut sampler, our salted cashews are kettle-roasted to a perfect salty smooth taste and texture for an irresistible snack.




Cranberry Nut Blend

- a tasty, nutritious, and delicious blend of walnuts, pepitas, and tart dried cranberries, this delicious mix makes for a great alternative to that sour jellied cranberry product that somehow manages to grace the table of Everywhere, USA.




Cherry Almonds - hand-roasted and kettle-cooked with a perfect blend of sugar and tart Michigan cherries, our Cherry Almonds make just as great of an addition to holiday salads as they are all on their own!


Honey Sea Salt Peanuts

- one of the most classic and iconic nut flavors ever devised, we've fine-tuned our recipe to create a perfect blend of honey sweetness and taste bud-tantalizing saltiness that is simply impossible to get enough of!
Checking local availability